New Dragon Industrial Co., Ltd is a chemical industrial company in China specialized in producing and exporting PIGMENTS & DYESTUFF and PHARMACEUTICAL PRODUCTS.

Our PIGMENTS & DYESTUFF base is located in Industrial District of Zhejiang Province, one of the most developed pigment manufacturing areas in China. We have a full color spectrum of Pigments & Dyestuff, mainly dedicated to textile, leather, Printing Inks, Paints and Plastics markets and are also used in a variety of applications. New Dragon contributes to the world of color by distributing through its commercial network a rich palette of Pigments & Dyestuff.

PHARMACEUTICAL RAW MATERIALS is one of our main products, which has owned mature and smart technical skills. With the efforts of all the staffs, we have successfully developed several series of products as below: Antiepileptics,Antifungal,Anti-HIV,Antihypertensive,Antineoplastic and Cardio Cerebrovascular .

PHARMACEUTICAL INTERMEDIATES is the newly-developed project in our company. We already established our pharmaceutical production base in Xilai Chemical Industrial Zone, where we mainly produce intermediates series of Indoles, Thiophenes, Pyridines, Imidazoles and Quinolines, widely used in Pharmaceutical industries.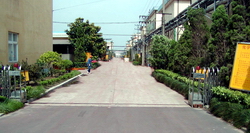 We have been exporting our products to various parts of the world since 1991 and have obtained fairly good reputation in the consistent quality in overseas market as we persist in quality to be an integral part of our strategy.

We expect to consistently provide our superior quality and best services to all the customers home and abroad.